Luana Hospitality Group
Celebrate Something Everyday!
Leadership Team
Eric von Platen Luder
Principal
Born in Hawaii and raised in the restaurant (almost literally), Eric has been in the business his entire life. He strives to position each brand as a part of the community — recognizing that there is no success without the local community.
Scott Dodd
Principal
After 28 years in the islands with a background in luxury resorts, Scott enjoys developing the vision for new projects and seeing the management team bring them to life. Details matter and Scott's focus is always on the guest experience.
Nick Roschi
Director of Operations
Since landing in the islands over 12 years ago, Nick has climbed the corporate ladder in each organization where he worked before joining us. He came aboard at the conceptual start of Lava Lava Beach Club and now oversees all operations.
Ken Schloss
Director of Culinary &
Corporate Chef
Hailing from the culinary hotbed of the Bay Area, Ken gained experience in diversity…from cruise ships to wine trains. His organizational efficiency, relationships with local vendors and strong leadership inspire our culinary team.
Marlo McGuire
Director of Finance
Marlo gained his experience at turning poor performing units into profit centers from his hospitality background on the mainland and here in Hawaii. He is responsible for financial planning and strategies at all Luana Hospitality Group entities.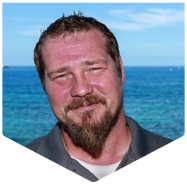 Jason Hensrud
Director of Facilities
Upkeep of Luana Hospitality Group's oceanfront facilities and equipment warehouses is a challenge Jason embraces. He leads his maintenance team to keep all entities running in top shape.
Our Mission
Luana Hospitality Group creates unique environments with extraordinary
experiences to encourage guests to celebrate something every day.